Tier 1 Expedition, August 3 – 7, 2022
A five day journey, in the heart of the Finger Lakes, undertaken specifically to help young women develop their self-awareness and independent thinking skills.    
"My favorite part was the conversations that we had throughout the trip, especially those with our guest facilitators. For me empowerment came from learning not to give up; just keep pushing for what you want." – Alicia 
This expedition began as nearly all of our expeditions do, with at-home pickups of the team members.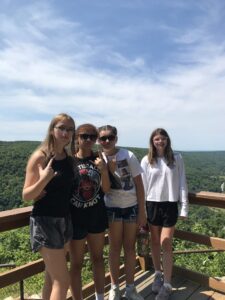 The team of four incoming 9th grade girls (Zashenka, Alicia, Rayanah, and Autumn) were part of the same friend group and therefore already had a level of comfort and familiarity with each other that simplified our ice-breaker activities. 
Our first activity was a conversation, facilitated by Danielle (co-founder and director or programming), about the meaning of empowerment.  This team described empowerment as having the strength and capabilities to face challenges and try new things.  They felt that being empowered and trying new things led to increased self-confidence and an awareness of what they do and do not like. Danielle closed this conversation with an overview of the trip's primary activities and a statement of our purpose; to provide experiences and conversations that allow each team member to feel empowered throughout the expedition.
Once gear was issued, we headed into Ontario County Park to set up our camp for the week. The girls had chosen to sleep in individual tents, so Danielle and I demonstrated how to set up the first tent and then they took over. They created a circular compound that allowed them to be visually connected while still in their own space. By 12:30 p.m., the camp was fully set and we had our first lunch together.  After lunch we took a short hike to explore the park and run some emotional self-awareness activities.  The activities led to insightful conversations about how some people respond to public recognition or criticism well, while others have deep feelings of nervousness or anxiety.  We talked about how emotional stress (specifically the depletion Alicia's "social battery") triggers both physical and behavioral responses, and how Zashenka's inner voice can spiral out of control without the support of close friends or teammates.  By 3:00 p.m., the team's energy level was visibly low, and Rayanah asked if they were allowed to take naps.  "Of course", I said, "we build down time into each day and it looks like now is a great time to chill out."  Two hours later, after a fitful rest in the late-afternoon heat, they emerged from their tents looking for food.  
That evening, Rayanah, Alicia, and Zashenka engaged me in a conversation about why Danielle and I started Expeditions of Empowerment.  As I told the the story or our origins, and described how school counselors nominate students to participate, Zashenka interrupted with a question, "So what made them choose me?" she asked with the same troubled look Rayanah and Alicia had.  "Ahh, you were chosen by because this expedition is about empowering female leaders." I replied.  As if a switch had been flipped, the three girls' eyes widened and faces lit up showing a combination of pride and excitement.  I continued to explain how we collaborate with the Newark School District to create a pathway for leadership and mentor development so that students like them have the skills to positively influence school culture.  Later, during our evening campfire reflection, Danielle posed the question: "What was your favorite part of the day?"  Zashenka replied first saying, "I want to give some sincere feedback.  I am just so glad that we all click as a group and that on day one, we were able to click and feel comfortable with you two (Danielle and I)."  Rayanah shared that she really appreciated how the day was chill; full of activity, but laid back at the same time.  Alicia shared that her favorite part was the afternoon conversations about emotional responses, and unpacking both personal, and more general, human nature emotions and behaviors.  Autumn, who entered the van tired in the morning, said she was most appreciative of the afternoon nap.   
Day two was a blurry continuation of day one.  Between the annoyance and fear of bugs crawling on their tents, the creepiness of hearing footsteps outside their tents as raccoons; opossums; and other nocturnal animals searched for food, and the lack of familiar urban ambient noise, the team didn't get more than a few hours sleep.  Despite their exhaustion, the entire team was up and moving by 8:30 a.m. and nobody was complaining.  I made a quick breakfast of eggs, bagels, and hot chocolate before taking them on a short hike up to the park's pavilion for a workshop facilitated by Caitlin Drago (owner of Inspire Imrpov and Coaching).
Caitlin facilitated a powerful workshop on taming our inner critic and embracing our inner mentor.  She led the girls and I through a guided meditation that brought focus to our place of comfort and confidence, and gave shape to an inner mentor who can guide us towards the things we are capable of but perhaps afraid to try.  Alicia and Zashenka embraced Caitlin's coaching as an opportunity to take their self-awareness one step deeper.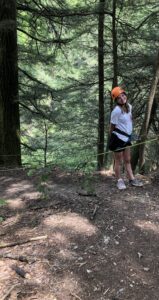 Following Caitlin's workshop, we met back up with Danielle for an introduction to rappelling in the High-Tor Wildlife Management area.  Autumn was the only person on the team excited for this activity.  The others, simply accepted it as a necessary taskthey must complete before being able to swim at the Vine Valley beach.  Everyone was attentive as I demonstrated how the rappel system worked and taught them how to tie the essential knots they would be using. They each practiced tying into the system and the basic movements of rappelling on flat ground before we moved up to a 30° bank for a 100 foot long practice rappel.  Autumn, being the most excited for the activity went first.  She tied in and zipped down the bank like she had years of experience descending ropes.  Then she ran back up the hill excitedly shouting "that was fun, I want to do it again!"  Rayanah was next, willing to push past her fear in order to get to the beach sooner.  Nervously, but smoothly she descended down the bank as Alicia, Zashenka, and Autumn cheered her on.  Zashenka followed with some nervous giggling and a few sideways bobbles as she figured out how to balance herself on this pendulum-like system.  Alicia, having a powerful fear of heights did not want to rappel down the bank.  Despite our best efforts, Danielle and I could not convince her to try, even with me tethered to her for extra support and safety.  So, Autumn tied in again and gleefully slid down the rope a second time.  Hot, tired, and a bit cranky the girls were ready for a swim.
At the beach they swam and played round after round of Marco-Polo.  At some point, about an hour into Marco-Polo, they decided to have a water-wrestling match.  Within minutes of wrestling, Rayanah's belly-button-ring had gotten snagged, reopening an old wound and ending their water play.  Refreshed, and much less cranky than when we arrived, we headed back to camp for a delicious dinner of burgers with mac & cheese. The girls showered and relaxed in their tents as I cooked dinner.  After dinner, they cleaned up and asked if they could go chill in the their tents.  In reality this was an ask for getting the phone time some of them so desperately craved.  "Yes," I said, "but before you go to sleep I want to have a campfire chat with you to talk more about leadership."  Alicia, always willing to engage in reflective conversations coordinated with the rest of the team to have our chat once it was dark, and they were ready for s'mores.  
Throughout the day I had observed a pattern of speaking with a harsh, bossy tone towards Autumn, so I prompted the girls to reflect on the difference between a leader, a role model, and a person in a position of power.  Zashenka responded first taking the conversation down a thread of leadership being based on having power, and using fear as a way to maintain that power.  Alicia added that she saw a leader as someone who is giving direction and setting expectations.  I shared stories of my experiences in the military where so-called leaders used fear as a means of motivation.  I described how time after time I saw people respond by giving  the absolute bare minimum effort to avoid whatever negative consequences were being threatened, and how quickly people would turn against those so-called leaders when the opportunity arose.  I contrasted those examples with stories of how l learned that by working alongside others, uplifting and making them feel valued and good about themselves, created trusting relationships that made people want to be a part of my team, follow my lead, and in most cases do what needed to be done without having to be asked.  I closed the conversation by encouraging the girls to practice uplifting those around them; for the remainder of our expedition and throughout the upcoming school year.    
Day 3 focused on empowerment through mindset. We began at 9:30 a.m. when Sharon Radak and Angela Schneurch joined us for a conversation about how our mindset influences the way we interpret what we see and hear, and how we approach the challenges we face.  Through stories of Sharon and Angela's experiences with multi-week adventure hikes, we gave examples of the natural cycle of thoughts and emotions that occur when going through significant challenges.  We talked about how thoughts of defeat or giving up are common when stressed by challenges, but by pausing, taking a break, and embracing the difficulty (embracing the suck) as a part of personal growth, we can push far beyond the point we initially want to give up.  Zashenka shared an example of when she experienced this in soccer and how good it felt to be on the other side of wanting to quit.  As our conversation drew to a close, I emphasized that this day was going to be the most physically, and likely mentally, challenging day of the expedition but it was well within their capabilities.  The objective was to rappel down a steep, 300 foot long gully spine to the base of High-Tor's upper falls and then climb back out using the same set of ropes.  Rayanah asked Alicia if she was going to rappel.  "Girl, you know my fear of heights won't allow that, so no" was Alicia's emphatic response.  
The girls alternated between giggling and grumbling as they stumbled over roots and rocks on the entry trail.  After three rounds of "are we almost there?" we arrived at the top of the gully spine we would be rappelling down.  The girls quickly ditched their packs with sigh of relief and sat down for a drink of water and a snack.  
While Angela and I set the ropes, the girls realized what they were about to do and with nervous giggles called their mothers to say, "I might die today, I love you."  Thankfully, all of their moms said, "you will be fine."  Rayanah, wanting to minimize the time she had to psych herself out, offered to go first. Nobody objected.  She tied in and nervously moved backwards to the gully's lip.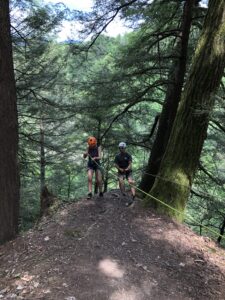 "This is terrifying" she softly said in a voice only I could hear.  "I know", I said, "but you've got this, trust in yourself."  Slowly she lowered herself over the lip and  began cautiously backing her way down the initial headwall. Right when she passed the headwall, Danielle yelled down, "Hey Ray!"  "Yeah?" she replied in slightly quivering voice.  "You can do hard things!" Danielle encouraged.  And with that, Rayanah cautiously, but confidently descended to the bottom where Angela was waiting for her.
Zashenka agreed to go next. 
Seeing the nervousness in her eyes, I asked if she wanted Sharon, Danielle, or I to go down  with her. "No, I think I'm good" she said. "Okay. I'll go with you over the first lip since that is the hardest part" I said hoping to reassure her.  With Rayanah shouting encouragement from the bottom and the rest of us encouraging her from the top, she screeched and giggled her way down the gully's spine. When she got to the bottom we heard her shout: "holy f*@k, I did it!"  We erupted in laughter, and Danielle yelled back ,"That's the feeling of empowerment!"   
Autumn tied in next and rappelled alongside Sharon, giggling and smiling as they slowly descended together. 
While we waited for Autumn and Sharon to reach the bottom, I sat down next to Alicia to privately compliment her on her level of self-awareness and to thank her for leading the group in our reflective conversations.  As we talked, she announced that she was going to face her fear and try rappelling down the gully bank.  "I came on this trip for a reason, and said that working on this fear was what I hoped to accomplish. So I'm going to try", she said.  Danielle and I assured her that at any point she felt it was too much, we would stop and bring her back up.  Alicia boldly faced her fear and descended to her cheering friends below.  She asked to be the first to climb back up the gully so that she could avoid giving her mind time to spool up fearful thoughts.  The team agreed, so she and I ascended the ropes together.  She climbed with confidence, casually talking the entire way.  At the top she let out a shout of pride and, with a flourish, stashed the helmet and harness in her backpack as if to say, "I'm done with you!"
Seconds after I shouted down to Danielle and Zashenka that it was their turn to climb, the clouds above unleashed a torrent of rain accompanied by crackling thunder and lightning.  The dry, dirt-sluffing bank Alicia and I had just climbed turned into a slick, muddy, slip-n-slide in less than one minute. As I calmly shouted words of encouragement down to Danielle and Zashenka, my mind raced through rescue scenarios, contemplating our best exit strategy if any (or all) of the girls became too panic stricken to climb back up.  Thankfully, they all embraced this now epic challenge and safely made it to the top. Sharon and Angela, experienced adventurers well-versed in navigating sloppy-wet trails, complimented the team on how they handled the challenge. "That was an incredibly difficult climb, you should all be proud!" they said.  Soaked to the bone, covered in mud, and chilled, Danielle, Sharon, and the team power-hiked out to the van as Angela and I pulled the saturated ropes and trudged behind.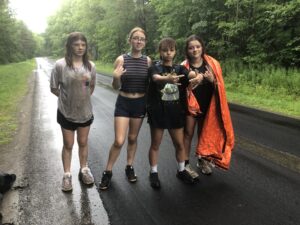 After long, hot showers, we took the girls into Naples for a celebratory pizza. Danielle asked if that was the hardest thing they had ever done. "By far!" they all responded.     
Day 4 was a well-deserved rest day focusing on empowerment through purposeful communications.  Our first activity, a short hike to a lean-to adjacent a beaver pond, started at 10:30 a.m. Danielle Tcholakian, a former New York City journalist who is now living in Naples, joined us to share stories of experiences that empowered her throughout her life.  She began by sharing the story of how she became a journalist, a career that she just happened upon, and how reporting on local news emboldened her to ask questions and claim her space in places she had previously felt she didn't belong.  She shared how each time she interviewed someone passionate and knowledgable about their job, she would become interested in pursuing a similar career path.  This led into a conversation about being curious, and how approaching life (and people) with curiosity allows us to explore opportunities and expand our awareness of what we do and do not like.  She asked the girls if they had ever experienced regret for something they said to another person, or perhaps even the tone in which the said it.  Alicia shared that she had just such an experience on this expedition; she explained how her tone when providing behavioral feedback to Autumn came off aggressive and harsh, which she regretted and later apologized for.  
For quite some time, Danielle's conversation hovered on the topic of people's opinions and awareness being influenced and limited by the bubble in which the live.  She shared how most New Yorkers don't understand much about life outside the Big Apple, and that this was true for her until she had opportunities to travel.  "For example" she said, "until I moved to Naples I didn't have much understanding or connection to where my food came from. I had no idea how hard farmers work to provide us the food we eat."  This led into long conversation about how our lived experiences shape the perspective we have; on everything from our first impressions of people to the values that guide our behaviors.  As this conversation drew to a close, I transitioned the group into an activity that would demonstrate how often our communications assume the receiver knows what we are thinking; guiding a blindfolded partner through an obstacle course using only our words. Despite the laughter this activity elicited, the entire team was able to appreciate the need to be purposeful and precise in communicating their desires, expectations, and needs.  They demonstrated this, and a sense of empowerment by clearly stating to Danielle and I that they were hot, hungry, and ready to navigate their own way back tot the van.   
At the van, we discovered that the lunch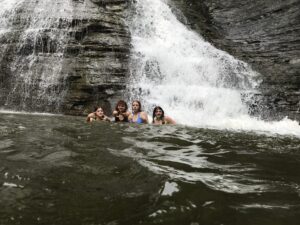 cooler had been left back at camp.  Collectively, the team decided that cooling off was a higher priority than eating, so we spent the remainder of the afternoon exploring the waterfalls and swimming holes at Grimes Glen.  By 4:00 p.m. they had cooled off and hunger had solidly taken hold of Alicia.  "I'm ready for a hot meal", she said as the others pleaded for more snacks. So we went back to camp for an early dinner.  After 4 days of nonstop adventuring, hotdogs, pasta and a tossed salad had never tasted so good.  Later that evening, as Alicia, Rayanah, and Zashenka chilled in their tents, Autumn, Danielle and I took a sunset walk up to the overlook. On our way back, we had the unique experience of walking past an eastern screech owl perched on a head-high branch alongside the trail.
Day 5, the final day of the expedition was a day of reflection, goal setting, and fun on Canandaigua Lake.  After an early morning pancake breakfast, we broke down camp and met our guest facilitator, Anneke Radin-Snaith for a workshop aimed at taking the expedition's lessons and experiences forward to achieve a personal goal.  While Anneke led the girls through the process fo reflection and goal setting, Danielle, myself, and our close friend Craig Peterson (kayak support volunteer) unpacked all of the gear from the van, and loaded the kayaks and stand up paddle boards for our final adventure. 
We arrived at the Woodville boat launch at 11:30, just in time to slip into the water before the mid-day sun  made land activities unbearable.  Craig, and his daughter Anika (both expert kayakers) helped fit the girls in their kayaks and gave them a brief lesson on paddling technique before launching everyone into the water.  By noon, the four girls, Anneke, Anika, Craig, Danielle and I were in the water casually paddling north.   After a few minutes of paddling, Danielle jumped off her paddle board to cool off while waiting for Autumn and I to catch up to the group.  The girls quickly asked if they could do the same, and promptly plopped into the water when Danielle said yes.  By the time I arrived, Rayanah, and Zashenka had already gotten back into their kayaks, but Alicia was was struggling to get back into hers.  As her arms began to fatigue, she clambered onto the back of my paddle board for a short rest.  "How do you get back in?" she asked.  I hopped of the board into the water to demonstrate what is know as the cowboy method; straddling the stern of the kayak like a horse and shimmying up and into the cockpit.  "Cool" she said, "can I try to stand on your board before I try it though?"  She stood, and proudly made her best surfer pose.  In the meantime, Autumn had entered the water by way of rolling the kayak upside-down and letting gravity pull her out under water.  Craig taught her the heel-hook method of reentry.  Once everyone hadcooled off we continued north-west to Walton Point for lunch and another swim. 
With no mention of being bored, ready to leave, or missing their phones, the girls
swam, played in the water, and tested their balance on the paddle boards for over 90 minutes. While the girls would have liked to have spent more time playing, we started paddling our way back at 2:30 p.m. so we would have time to finish Anneke's workshop before taking them home.
In our final reflection conversation, we asked the girls what their favorite part of the expedition was, and in what ways it has empowered them.  Alicia said that her favorite part was the conversations that we had throughout the trip, especially those with our guest facilitators, and her empowerment comes from learning not to give up, just keep pushing for what you want.  Zashenka shared that the conversations were also her favorite part, and that empowerment came for trying so many new things that turned out to be fun. She said she will now approach new things with curiosity, whereas before she would never take the chance.  Rayanah said the van rides were her favorite part, because that is when they all sang, laughed, and generally acted silly together.  Pushing past her thoughts of giving up, saying "this is not how I want my story to end" was something she learned and plans to take forward in life.  Autumn's favorite part of the trip was kayaking, despite how exhausting it was. She wasn't quite sure how to describe how she was empowered, but what we saw throughout the trip was her genuine excitement to try everything new.