Written by: Scott Wager
This expedition, sponsored by the Newark Central School District, was the second phase of a 3-year continuum of experiential social-emotional development programming. The continuum, aimed at improving life outcomes, also provides a mentorship pathway for boys in the district's My Brother's Keeper (MBK) program who are currently transitioning from 8th to 9th grade.
Activity sequencing for this expedition was designed to strengthen team unity, increase self-confidence, and further develop supportive communication patterns. Self-awareness, self-management, and self-efficacy were the overarching emotional intelligence pursuits targeted throughout every activity that directly support improving life outcomes.
The expedition began at 7:30 a.m. with at-home pickups of the four members of last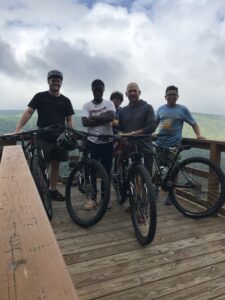 year's six person team that were able to attend this year's trip. One decided to bail on the on the expedition when I arrived to pick him up, pairing the team down to three. Bummed that the whole 8th grade MBK team wasn't present, the three committed boys (Carlos,
Levar, and Lindsay) bemoaned how the trip wouldn't be the same as a team of three and openly criticized two of the non-participants for making choices that were leading them towards family issues and possibly even juvenile detention. Although this was not the vibe I had hoped to start the trip with, their conversation did provided me an opportunity to uplift their usage of consequential thinking.
A few Introductory activities at our gear barn quickly showed that this group was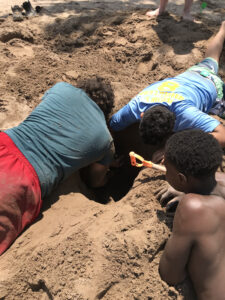 comfortable sharing information about their lived experiences, and that they worked well as a team. By mid-morning it was evident that the day's planned activities would not be effective or engaging for a team of three; we would have to improvise for the remainder of the trip. So, at 10:00 a.m. we ditched our agenda and headed to Vine Valley for an afternoon of bonding at a lakeside beach. For hours we tossed a football around, swam, dug holes in the sand, and swam some more. As hunger began to creep in, we made our way to Ontario County Park (our home for the week) for a late-afternoon lunch, and to set up camp.
Having made quick work of camp setup, Jeff and I obliged the boys with a few games basketball before dinner. After just two games in the sweltering late-afternoon heat Carlos suggested that "this" was the time we needed to be swimming. So, we all hopped in the van and headed to the Woodville Boat launch, the closest lake access point.
When we returned to camp Carlos and Levar worked together to chop wood for a campfire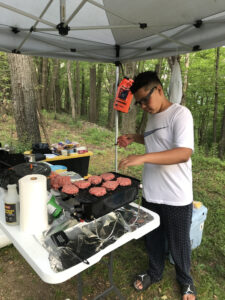 while Lindsay meticulously prepared restaurant quality cheeseburgers on our camp grill. Throughout dinner (and for hours afterwards) Carlos and Levar vented about the choices two of their MBK brothers were making. They described how one particularly manipulative older boy (not in MBK) was pitting one MBK member against others, and how frustrating it was to see their brothers disregard advice for staying out of trouble. Capitalizing on the opportunity for positive reinforcement, Jeff and I repeatedly complimented the boy's consequential thinking, and gently encouraged them not to fall into the trap of engaging with this person's bullying tactics.
Day two of the expedition focused on being present in the moment, appreciating their surroundings, each other, and their own capabilities. Carlos, (the early-bird of the team) was up at 5:30 a.m. and had begun splitting wood for morning campfire by 6:00. By 7:00
there was no more wood to split, so he and Levar ventured out with saws and hatchets in search of a dead tree they could fell. Before my coffee was finished brewing I heard a gleeful "Timber", followed by a crash and thump that denoted their success. Thankfully we were the only campers around to be awoken by the early morning lumberjacks! After a calorie-dense breakfast of bagels and oatmeal (which the boys sweetened with an absurd amount of brown sugar), Jeff and I instructed the boys to change into swimwear, and bring their tarps and chords of rope for the day's kayaking adventure. Using sound logic based on the weather forecast we had discussed during breakfast, the boys deduced that the tarps and ropes were to build an emergency shelter if we got caught in the rain. The real purpose was for the team to build a kayak sail. As we left camp at 9:00 a.m. the temperature was already approaching 90o and everybody was excited to be on the water rather in the forests.
From the Woodville boat launch we paddled south into the West River and eventually into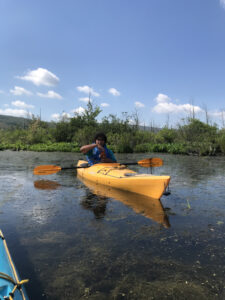 Naples Creek. On the way, Carlos and Levar ambitiously lead the way, exploring every narrow passage and decomposing duck blind they came across; Jeff and Lindsay followed
along, enjoying a more conversational pace. We paddled just over 2 miles south before a dense population of blood-thirsty mosquitoes forces us to turn around. Carlos, motivated by some gurgling intestines, sprinted downriver towards the Port-O-Johns at the boat launch while the rest of us tried to convert a tarp into a kayak sail. After several unsuccessful attempts we conceded that paddling was faster and paddled northward to meet back up with Carlos. From there we continued north-west into a shallow cove for lunch.
Refreshed by a swim, and partially re-fueled by salami & cheese lettuce wraps, Carlos,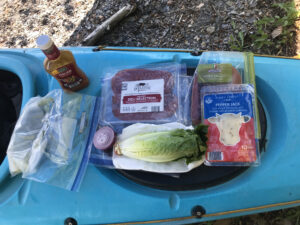 Levar and Jeff started the challenge of playing catch with a football while in a kayak; Lindsay stayed on shore enjoying the lake's scenery. Within minutes of joining the game, I reached a little too far for a catch and flipped my kayak. The boys erupted in laughter, and then decided kayak catch was too risky a game for them to continue. Just as I had finished pumping most of the water our of my kayak, I heard someone say that Lindsay had flipped also. I turned towards shore and saw Lindsay standing in knee deep water, looking at the capsized kayak with an annoyed expression on his face but otherwise safe and uninjured. A perfect opportunity, I thought, for him to learn how to empty a swamped kayak in shallow water. So, as I slowly paddled towards shore I instructed him on what to do and complimented his success. I thought all was well until Lindsay began yelling at Carlos for accidentally splashing him with water and then forcefully throwing his paddle to the ground in a mini-tantrum. "Lindsay I know your are upset, but it is not okay to throw our gear around like that" I said. Begrudgingly, he got into the kayak and shoved-off from shore shouting that the trip sucked as he crossed his arms and hung his head to sulk. Jeff, Carlos and Levar distanced themselves from Lindsay and waited for my reaction. I discretely motioned to Jeff that I would take care of Lindsay and he could lead Carlos and Levar back to Woodville. After several minutes of Lindsay's sulking I paddled over to him and softly said "A big part of these trips is to help you learn how to work through situations that trigger strong emotion like this. It's okay to have them, we just have to work through them." Again he shouted: "This trip sucks, I want to call my Nana and go home!" "Lindsay, going home is not an option that you have, so we are going to have to work through this together" I said as I floated several feet away to give him the time and space he needed to process his emotions and options. Eventually, in a huff he started paddling towards the launch; I silently shadowed his pace and pauses so that he knew I was with him, yet was not pressing into his bubble of personal space. To my surprise, this episode had transformed the entire groups energy from joyous and energetic to somber and withdrawn. "We are now in a situation that is neither pleasant or desirable for any of us" I said as the team floated around the boat launch with their heads hung low. "I know the trip is not the same without the full six-person team" I acknowledged. "We can't change their choices. All we can do is make the best of the situation we are in, and figure out how to make this trip fun without them. Dwelling on things we can not control isn't helpful, so we all need to be a part of the solution" I concluded. Lindsay and Levar simply said they were done kayaking for the day; Carlos said he really wanted to ride mountain bikes. So we headed to the barn to swap kayaks for bikes. Within the 15 minutes it took to reach the barn, Lindsay and Levar had fallen into a nearly unconscious state of sleep!
Back at Ontario County Park, Carlos and I rode bikes while Jeff relaxed at camp and Lindsay and Levar slept in their tents. We rode for about 90 minutes before an approaching thunder storm scared us back to camp. While were were riding, Levar had gotten up and spent some alone-time in his place of mental-relaxation, the basketball court. As waves of thunder storms rolled through, the four of huddled under a canopy preparing pasta, sausage, and a fresh salad for dinner. Tentative about Lindsay's mood, but not wanting him to miss our delicious dinner, I woke him a few minutes before the sausages were done cooking. After a 4+ hour snooze, his mood was pleasant and we spent the rest of that rainy evening laughing, telling stories, and eating S'mores. Jeff and I surmised that hunger, and a lack of sleep were the main contributors to the afternoon's rapid shift in mood.

Expedition day 3, was a high-adventure hike up the waterfalls in High-Tor's Clark Gully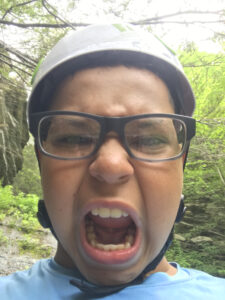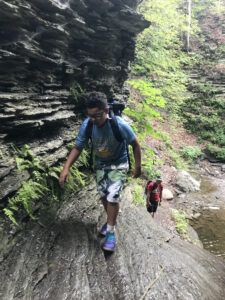 focusing on building trust, self-confidence, and communications skills. Like the two days prior, morning temperatures were in the upper 80's, humidity was at 100%, and heavy rains were predicted for the afternoon. After a short, post-breakfast discussion about who we choose to trust and how we decide they are worthy of our trust, we loaded our packs and headed out to climb some waterfalls. The team was a little anxious about climbing something that required ropes, but their attitudes were positive and they were excited to be playing in water on a steamy-hot day. At the first waterfall (a fifteen-footer choked with fallen trees) I asked the team to don their helmets, choose their route, and discuss how they would help keep each other safe. "Go one at a time", "keep 3-points of contact" "Pay attention", were their responses as well as their actions!
Carlos took the lead, choosing a route that wove around the fallen trees and up a narrow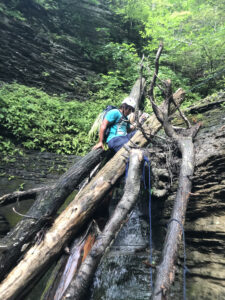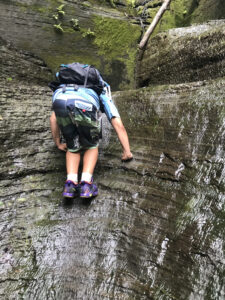 slot with the aid of a thin blue rope prior hikers had placed. Lindsay chose a more intimidating route that began from a waste deep water hole, and progressed up a cascading shale wall. With slow, deliberate movements he made his way up a series of credit card-sized steps to the top where he promptly fist-pumped the air in celebration. Levar followed Carlos's route only to find that the rope had been dragged away! A quick shout for help brought Carlos to his aid.
The second waterfall was the true challenge of the day. There the team had to climb up the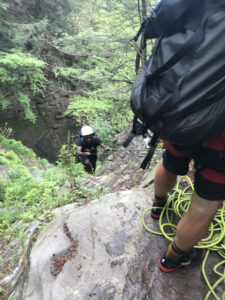 left side of a fifty to sixty foot waterfall, traverse across the top and then continue up another twenty-five foot pitch on the right side. Before starting this section we openly talked about each persons fears and concerns, and discussed how we were going to minimize risk and maximize their self-confidence. After demonstrating how the belay system would work, checking everybody's harness and rehearsing our communications, I slowly climbed the route, pausing with each movement so the team below could see the hand and foot placements, and hopefully increase their self-confidence. Lindsay was the first to climb. He arrived at the anchor tired, but grinning with excitement and pride. I tethered him to the anchor, handed him my phone, and designated him as the climbs video documentarian. Next up was Levar, the most anxious about the climb due to his fear of heights. With Lindsay and I cheering him from above, while Carlos and Jeff shouted encouragement from below, Levar easily make the climb and declared that he was proud of himself for doing so! As Carlos came into view a few minutes later, Lindsay excitedly shouted "you goth this Carlos, finish it out bro!"
At the base, Jeff had shared that this was his first ever climbing experience. In a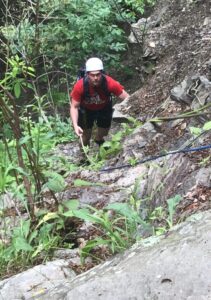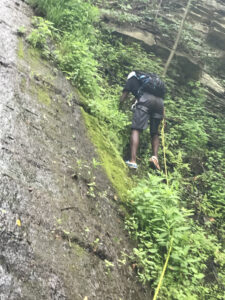 show of support, the boys cheered him along loudly
and congratulated him with high-fives when he reached the top. Now, with an entirely new sense of confidence, the boys quickly and easily climbed the two remaining waterfall segments. Triumphantly, we sat atop the upper falls sharing a communal lunch.
Hot and sweaty from hiking the steep trail back down to the van, the boys asked if they could go swimming until the storms rolled in. As a reward for their hard work, and to carry the momentum of a fun day, we headed back to the cool lake waters at Vine Valley's beach. When the storm finally roared its' way down the lake we retreated to the barn for some late afternoon trust, communication, and problem solving activities. At 5:00 p.m.the rain stopped and the local weather radar showed a 4-hour break in storm activity. So, we scavenged a bag full of dry wood scraps from the barn and headed to camp to cook a fire-roasted barbecue chicken dinner. With little discussion and zero arguing, everybody contributed to a delicious meal and insightful conversation. After dinner, Jeff indulged the boys in several (highly competitive) games of 2-on-2 basketball.
By plan, Day 4 was to be another high-adventure day focused on problem solving and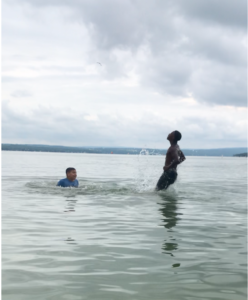 conflict resolution. The team had already worked through some pretty difficult challenges and conflicts and I thought they might benefit from a day of rest. So, again we improvised our plan. We loaded up the kayaks and headed north to Canandaigua's Kershaw Park for a leisurely day of paddling; our only objective was to have a fun day! We started with a paddle around Squaw Island, which was fully inhabited by seagulls. Not wanting to swim near an island full of seagulls, we ventured back to Kershaw Park for a rest. While Jeff and Carlos explored Kershaw's shoreline via kayak, Levar and Lindsay had a contest to see who could do the best imitation of a dolphin jumping out of the water. Later in the morning, we took a casual paddle over to the east shore and found the sunken remains of an 1800's era steamboat named Onnalinda. Although slightly creeped out by the thought of remains beneath them, the team was genuinely excited to have found this sunken treasure. Around noon, Levar and Lindsay's arms were starting to get fatigued so we paddled back to Kershaw where we had lunch and met up with Expedition's Co-Founder, Danielle Ohlson. After a long lunch on Kershaw's grassy shoreline, Danielle joined us for a short paddle back to our launching point.
We arrived back at camp with plenty of time for a few more basketball games. Levar (the star player) was always teamed up with Jeff or I (the scrubs), and the boys didn't give us any slack! Later, Jeff and I commented on how the boys play at such a high level, even when wearing Crocks or Sandals…they were way out of our league! luckily around 7:00 p.m., just as I was running out of gas, I noticed the western skyline darkening. "Phew, saved by the rain" I thought, and suggested we go make dinner before the storm arrived. Our meal was simple (hotdogs with mac & cheese) so I did the cooking as they boys showered and changed. As we ate, a short (but powerful) storm blew threw; keeping us all pinned under the kitchen canopy. A break in the rain gave Jeff a chance to shower as we cleaned up from dinner, but as soon as he returned we could hear the thunder of the next system approaching. I looked at the radar on my phone and saw this next system was going to be strong and last until 10:00 p.m. or later. It was only 8:30 p.m. and we weren't really tired, but because the cooking-canopy wasn't going to keep us dry we all decided to retire to our tents for the night.
Day 5, the final day of the expedition started like all the others had; Carlos and I made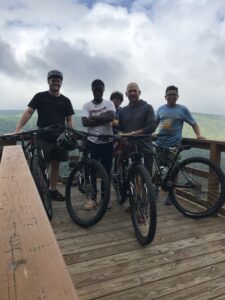 coffee and built a morning fire together as the others slept. Today however, unlike the previous mornings Carlos suggested we scale back our activity plan. "What's going on, why do you say that?" I asked. "Well you know Jeff and I rode bikes together yesterday, and I like Jeff so I don't want to punish him on any big hills. He hasn't ridden a lot like we have" Carlos said. Throughout the trip I had heard many examples of Carlos acting as a leader; breaking up fights, giving peers advice that would keep them out of trouble, being vocal against smoking & vaping, but when it came a fun physical activity he never throttled back! I simply smiled and said "okay, we'll have a more casual breakfast and take the short route."
The boys were ready for the tip to be over. By 7:30 (a half-hour earlier that they usually get woken up) they had their tents down and packed! As they shuttled gear out to the van, I prepared a morning feast of bacon, pancakes, and fruit. We slowly finished breaking down the camp kitchen, loaded up the van, and made one last trip to the bathrooms before heading out on our bikes. Lindsay asked if he could walk with me to the bathroom, which I thought was odd, but said "sure." As we walked, he said "Tuesday was a really tough day form me, but I'm glad I stayed." "I am too Lindsay, and I'm proud of you for choosing to make the rest of the trip fun" I replied. He smiled and quietly walked along the path to the bathhouse.
We rode our bikes to the overlook at the very top of Ontario County Park to hold our closing trip debrief in a scenic setting. Jeff had a great suggestion of focusing the debrief on what leadership meant to the boys, and how what they learned on the trip would be useful to them afterwards. Lindsay described a leader as "someone who is able to solve problems and help others to solve problems at the same time, with confidence and teamwork." Levar described a leader as "someone that shows others the right way in life." Carlos said "a person's behaviors and characteristics" determine if he sees them as a leader. He then elaborated to say "someone that follows the rules, listens, and pays attention. You know, setting the right example for others to follow." When asked if they saw themselves as leaders and what leadership characteristics they saw within themselves, Carlos initially said "not now, but maybe in the future." He later said "yea, I guess I do try to help my friends do the right thing." Levar said "yes, in sports I try to help people get better, and at home I'm the reason nobody smokes. Even my friends who smoke or vape don't do it around me 'cause they know I'm gonna get after them for it." Jeff asked the team how their experiences on the expedition would help them moving forward. Lindsay responded "work ethic. I had to work hard to accomplish things this week, so now I know that if I really want to do something I'm gonna have to just work harder for it." Following our debrief we rode from the park to the barn where Danielle was going to meet us with the van. For the second time that day, Carlos showed incredible teamwork and camaraderie by stopping at each turn and hilltop to wait for the team to catch up.
We were almost an hour ahead of Danielle's planned arrival time so I took the team to a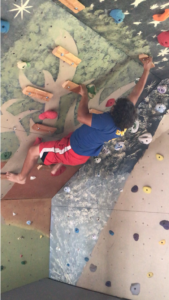 neighbors barn for some climbing on an indoor wall that a previous expedition team had built. When Danielle arrived, the boys unloaded the van, sorted all of the gear and prepared grilled bologna and cheese for lunch while I hung our tents from the ceiling to dry.
In these final moments of the trip each of these young men showed characteristics of responsibility, leadership and teamwork; doing whatever they saw needed to be done, and accepting direction from each other without any assertions of dominance.