Written by: Scott Wager
This outing, sponsored by the Newark Central School District was part of a multi-year continuum of experiential social-emotional development programming that supports youth in the District's My Brother's Keeper (MBK) program. The objective of the outing was to provide a team bonding experience that also increased participants sense of self-efficacy through positive experiences and new personal achievements.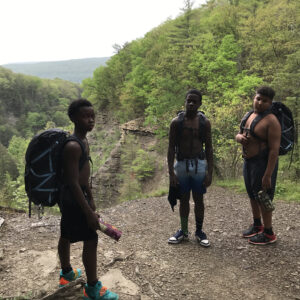 Our trip began with some casual, introductory conversations over breakfast (bagels and strawberry cream cheese) at our gear barn in Naples, NY. Local weather forecast showed a 100% chance of heavy rain, so our gear fitting process began with the most essential safety item; rain gear (Marmot Precip jackets and pants) to keep us dry and warm when mother nature turned her power washer on us. Next came climbing harnesses, helmets and backpacks and sleeping bags. After the personal gear was issued the team was given the option of either partnering up in tents or having their own individual tent for the night. Two of the boys immediately said "our own" and looked at their third teammate for approval. His hesitation in responding was all the boys needed; within seconds, and without a single word of harassment, ridicule, or debate, the boys decided to all sleep in one tent. I admired the genuine camaraderie and teamwork they displayed in that moment! Eager to put all this fancy gear to use, the boys asked "Where are we going?" as they scanned the surrounding hillsides for some unknown clue. I pointed across the valley to High-Tor and said "there, we are camping on the top of that hill." "Wait! What?! you mean we are hiking all the way over there?!" they asked. "Next time." I teased, "this time we will drive there."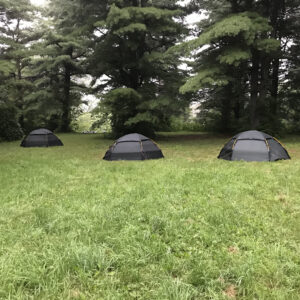 Once at High-Tor's overlook lean-to, the boys quickly set up their tent. Each wanted to do an equal share of the work and they delegated tasks amongst themselves with little intervention from Jeff (my assistant guide) or I. Again I was impressed with their level of teamwork. Yet I still wondered, if like many other teams, food would draw out more selfish behaviors. So, as a test I announced that the day's lunch consisted of peanut butter and Jelly sandwiches with apples as a snack; I then instructed them to pack their own lunches for the day. Nobody showed signs of food hoarding or me first behaviors. Instead, they patiently took turns making sandwiches, and very considerately counted bread slices to see if everyone could have two sandwiches. As a team, Nicholas, Shaquonn, and Jevar were working extraordinarily well together so I gave them the option of spending the afternoon rappelling, or doing doing team problem solving activities. They chose rappelling and were excited about learning how, until they spotted natural rock waterslides in the gully as we approached the rappelling area. The prospect of sliding down these natural cascading waterfalls became the dominant focus in their minds, overshadowing everything else. However, when told that they would be able to play in the gully's waterslides after completing the activities that they had chosen first, the boys respectfully accepted the work had to be done before play.
Jeff led the team through a shelter building activity to observe their communication patterns and effectiveness. He noticed that each person communicated respectfully with their fellow team members, but overall communication was ineffective because the boys were not able to articulate their ideas. As a result, each person was doing their own thing without others being able to help, or for that matter even understand how their teammates idea improved the shelter or build process. During the activity debrief the boys were not able to recognize this gap in communication, and held to the belief that everyone understood both what they were doing and why. In the end, what really mattered was that they felt good about the experience and were happy with the shelter they built. Now the boys were eager to move on to rappelling activities (presumably to get into the water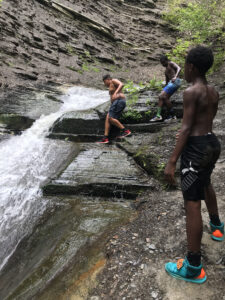 sooner) and gave their full attention to our demonstration of how the rope system worked. After a few practice tie-ins, they raced uphill to the ridge-top anchor; where they realized that a 40o slope looks much steeper viewed from the top down than it does from the bottom up! This perspective of height and steepness made the rappel challenging, but each person overcame their initial fears and was proud of their accomplishment. With their required work now done, we headed downstream in the gully's main water flow. For hours the boys explored and played on the Gully's shale waterslides; laughing, screeching with excitement, and coaching each other on how to go faster! At one point, as Nicholas emerged from a waterhole, he shouted "Yo! this trip is awesome!" and thanked me for providing the experience. As light rain and hunger descended upon us, we began the long, steep hike back to our campsite.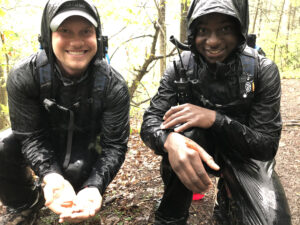 On day two (as forecasted) we awoke to torrential rain. A short respite from the day-long rain gave us just enough to don our ran gear, eat a quick breakfast, and pack up camp before heading out to explore some waterfalls. At first, the boys thought I was joking about exploring waterfalls and assumed the rain meant we would go home. Little did they know we turn rainy days into life lessons! Using the rain as a metaphor for unpleasant circumstances in life I shared an important lesson from my military experience; "some of our greatest rewards, and proudest moments come from achievement made in the most miserable circumstances." Again without complaint or debate, the team accepted the situation and carried on with a positive attitude.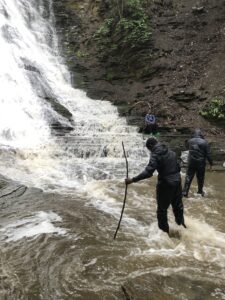 Jevar, who was a bit tentative and lagged behind the team yesterday, was now out front blazing a path upstream in waters that had doubled in volume overnight. At every point along the hike that deep or turbulent water, slippery rocks, or mini-waterfall presented a challenge, the boys would group up and work together to ensure everyone made it through safely. By mid-day we had made our way back out of the gully and started our third, and final slog up the steep trail to our overlook campsite (and the van). Yet again, without a single whimper of complaint the team marched up the hill, checking on, and supporting each other along the way. The teamwork and camaraderie of these boys was palpable.
The trip came to a close with lunch and gear check-in back at our barn in Naples. While Jeff, Nicholas, Shaquonn and I hung all the gear to dry, Jevar prepared sandwiches. As we ate lunch together and reflected on our experiences over the past two days the boys shared; Jevar had mostly overcome his fear of heights, Shaquonn learned to "test the waters before stepping in", and Nicholas helped apply the concept of testing the waters to interacting with people. By 3:00 p.m. we were headed back to Newark, and by 3:10 all three boys were sound asleep in the van. Mission accomplished; three tired boys who were proud of what they had accomplished in the past two days.